QUICK VIEW
Naked Silk
Naked Silk Hybrid Lubricant
$10.00
Naked Silk is a water-silicone hybrid personal lubricant that feels like the real thing. It can be used safely with latex, rubber and plastic. Details Ingredients: Water, Cyclopentasiloxane, Cyclohexasiloxane, Dimethicone, Dimethiconol,...
QUICK VIEW
Fun Factory
Fun Factory Bouncer - Dildo with Balls inside
$99.99
At first glance the Bouncer has all the best characteristics of a dildo. The sleek, abstract design and the gently curved shape is perfect for stimulating the G-Spot and prostate,...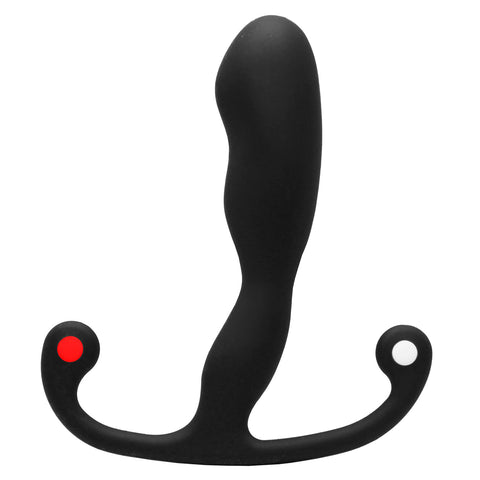 QUICK VIEW
Aneros
Aneros Helix SYN Trident
$69.95
Experience the synthesis achieved with the most popular Helix model and velvet touch silicone. The original Helix design has been skillfully refined for an even more comfortable fit, and with...
QUICK VIEW
Dame Products
Duo Kit
$75.00
Duo is an all-in-one kit for couples looking to bring some cozy to their toesies. It features Zee, a rechargeable vibrator, Alu lube, an aloe-based lubricant, two condoms, and two...
QUICK VIEW
XR Brand
Heart Padlock Nipple Clamps
$18.00
These easy-to-use clamps have a simple screw-down design, accented with a heart shaped padlock. The vinyl coated tips allow for a comfortable and secure grip while the black lacquered heart...
QUICK VIEW
Chronicle Books
Fantasy Sex Deck: 50 Erotic Role-plays for Adventurous Couples
$16.00
From wild bondage romps to indulgent sex toy playtime, the 50 erotic role-plays in this deck are an ideal way for couples to bring their wildest fantasies to life. Playfully...
QUICK VIEW
Womanizer
Womanizer Premium Black/Gold
$199.00
The Womanizer Premium is the ideal combination of new technologies and high-quality design. The Pleasure Air technology stimulates the clitoris without making contact – from supersoft to superpower in 12 different...
QUICK VIEW
le Wand
Le Wand Chrome Point
$125.00
Take pleasure to new heights with Le Wand Point, a contoured mini-vibe that provides the ultimate hands-free masturbation experience. Made from body-safe silicone, Le Wand Point is a USB rechargeable...
QUICK VIEW
le Wand
Le Wand Chrome Bullet
$85.00
Perfect for beginners, Le Wand Bullet is a cute & tiny vibe that's deceptive but packs enough power to send someone over the edge. Elegant and easy-to-use, the Bullet has...
QUICK VIEW
Kheper Games
Sex Fortune Cookie Bath Bomb
$15.00
Each bomb holds a unique waterproof fortune activity that is guaranteed to spice up your love life. Dissolve a bomb in your warm tub to reveal sex fortunes such as...
Showing items 1-10 of 10.