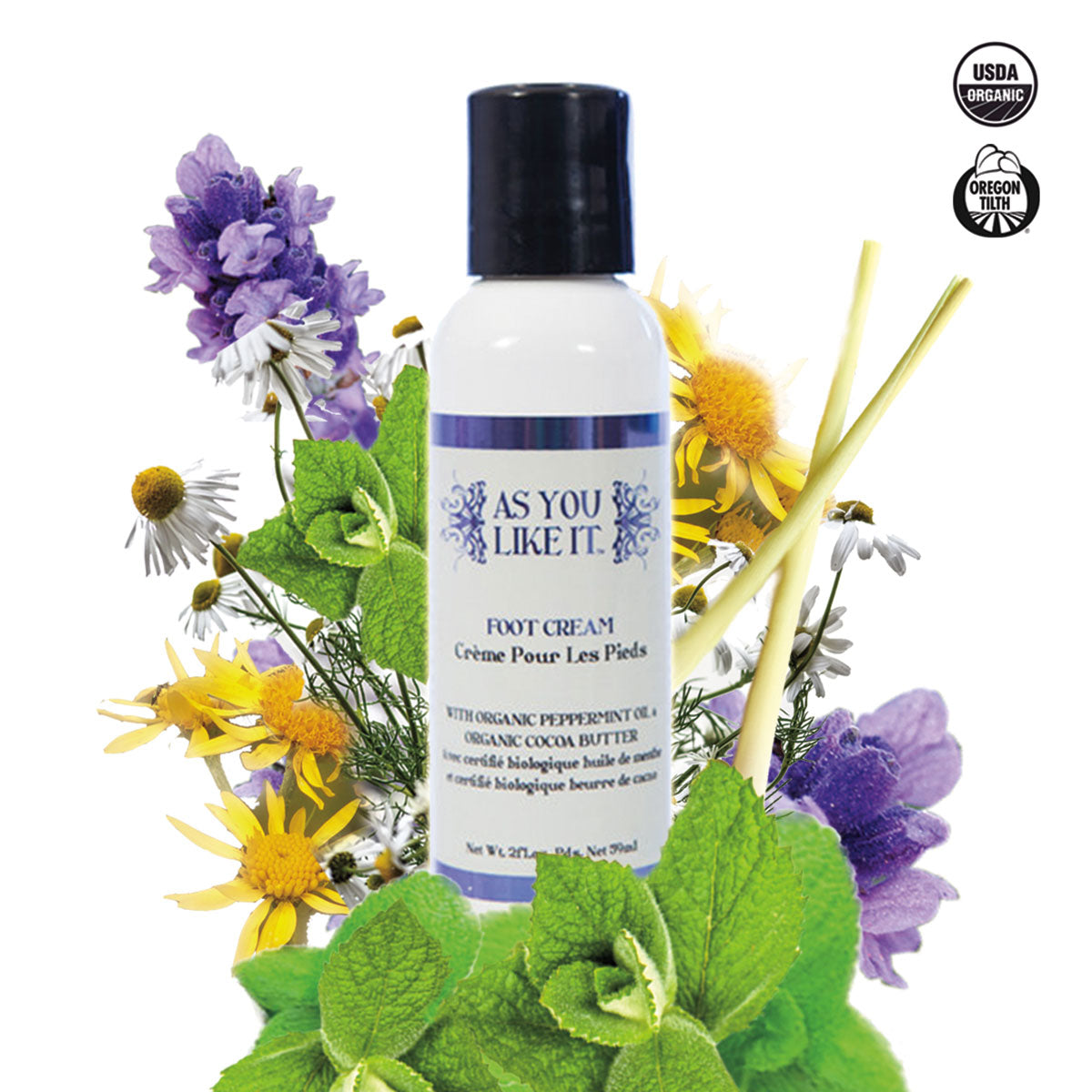 As You Like It Organics
As You Like It Organic Foot Cream 2 oz.
$7.50
A Five-star vacation for the feet!
As You Like It Organics Foot Cream is the perfect way to renew and revive sore/cracked/achy feet and legs. This custom blend of organic essential oils and extracts is designed to promote healing, and naturally freshen the scent of the feet. Organic peppermint essential oil creates a cooling sensation and organic lemongrass essential oil helps increase circulation. Lavender, chamomile, and arnica flowers add to the blend's relaxing power, while organic coconut oil and organic cocoa butter hydrate and soften the skin. This luscious, yummy-smelling foot cream leaves feet looking, feeling and smelling better. Great for self-pampering or treating a sweetie to the best foot massage they've ever had.
Details
Ingredients: Purified Water, Organic Sunflower Oil, Octyl Palmitate, Vegetable Glycerin, Organic Aloe Barbadensis Leaf Juice, Glyceryl Stearate, Cetyl Alcohol, Stearic Acid, Panthenol, Allantoin, Organic Coconut Oil, Organic Lemongrass Oil, Organic Peppermint Oil, Organic Lavender Extract, Organic Arnica Extract, Organic White Tea Extract, and Organic Chamomile Extract, d-a Tocopherols, Organic Cocoa Butter, Organic Jojoba Oil, Organic Borage Oil, Organic Tamanu Oil, Sodium Carbomer, Phenoxyethanol, Ethyl Hexyl Glycerin