Metal Toys
QUICK VIEW
njoy
Fun Wand
$95.00
The essence of Pure/Fun, rendered in gleaming stainless. Ideal alone or with a partner. Great fun for combined oral and G-spot stimulation, or turn the tables and use the graduated...
QUICK VIEW
njoy
njoy Pure Plug
$65.00
Equally fun for hot bedroom play or to wear all day for some naughty secret stimulation, njoy's Pure Plugs truly shine where the sun don't! The Pure Plugs combine a...
QUICK VIEW
Crave
Vesper Necklace Vibrator
$70.00
Sexy in more ways than one, Vesper is sure to be the most unique accessory in your collection. Both a stunning necklace and powerful vibrator, Vesper features a solid, stainless...
QUICK VIEW
LELO
LELO Yva
$3,900.00
YVA is an elegant and luxurious pleasure object, crafted in stainless steel or 24K gold plate, with a deep and resonant vibe. The metal, enticing and evocative against the naked...
QUICK VIEW
njoy
Pure Wand
$120.00
This sensually curved beauty provides a direct connection to your favorite Spot - G or P or wherever feels so good. Crafted in njoy's trademark gleaming medical-grade stainless, with the...
QUICK VIEW
njoy
Prostate Pfun Plug
$95.00
Ergonomically designed to target the prostate, the njoy Pfun Plug delivers firm, controlled massage to the male G-spot. Whether manually controlled, or activated with the user's own muscles in 'hands-off'...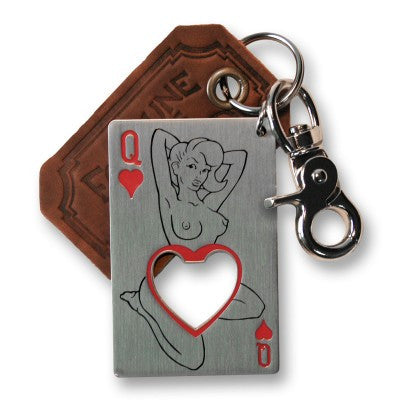 QUICK VIEW
Trixie & Milo
Queen of Hearts Bottle Opener
$17.00
The Gentleman's Bottle Opener and Key Ring is made of heavyweight stainless steel and leather and makes the perfect companion for a back pocket. Always be at the ready with...
QUICK VIEW
Pretty Plugs
Pretty Plugs Anal Plug
$90.00
Made from surgical grade stainless steel, these pieces of bling for your booty have genuine Swarovski crystals in them. When these medium-sized plugs are inserted, the crystal is exposed as...
QUICK VIEW
Doxy
Doxy Smooth Metal Plug
$59.99
Warm or cold, the Smooth Doxy Metal Butt Plug is simply designed for pleasure. This beautifully made and thoughtfully designed plug has an elegantly tapered shape and an extra-long stem...